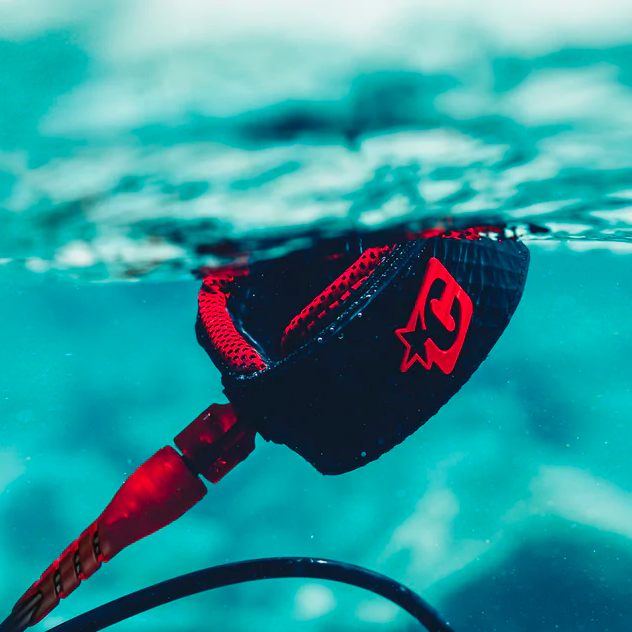 What legrope or leash do I need for my surfboard?
This is a common question we get asked in store - so I have prepared a quick guide to help you pick the right legrope or leash for your surfboard.
(note: Legrope and Leash are interchangeable terms. In Australia we commonly can them 'Legropes', in the USA they are usually called 'Leashes')
What length do I need?
As a general rule, you want to get a legrope roughly the same size as your board.  This gives you enough clearance or distance from your board when you wipe out.  If your legrope is shorter than your board, you are a lot more likely to come into contact with it when you take a tumble.  This length recommendation also prevents excessive drag while up and riding. There is also less length to reel in when you retrieve your board.
When your board length is in between sizes of legrope available (for example 6'4" or 6'10") go for the closest length legrope ( eg. choose a 6ft legrope for the 6'4" surfboard or a 7ft for the 6'10").
In bigger, more powerful conditions it is a good idea to use a longer legrope.  This will withstand the extra pull from larger waves and give you greater distance from your board when you wipe out.
What diameter do I need?
Leashes also come in a variety of diameters - here are the common types:
Comp
SHOP NOW
These are thinner, for less drag in smaller, weaker waves (5mm, 6mm or 3/16" thickness).  Generally only suitable for use in less powerful conditions up to head high.  Commonly available in 6ft length (though some brands offer 5ft as well).
Pro / Standard / All Round 
If you are only going to buy one legrope, I'd recommend grabbing one of these (7mm or 1/4" thickness).  Suitable for use in knee high to well overhead surf
Big Wave / Heavy Duty
Use a thicker legrope for larger, powerful waves (8mm or 5/16").  Thicker cords have more strength but also create more drag.
Swivels
Swivels help prevent tangles - all of the legropes we sell in store have 2 swivels, one at either end of the urethane cord. Built out of various non-corrosive materials (stainless steel, titanium etc). Lesser quality / cheaper legropes often only have only one swivel (or even none) and are often built of lesser quality materials.
Rail savers
Made from durable nylon fabric, these help prevent damage to the tail of your surfboard caused from the contact of string or urethane with fiberglass.  With their Velcro fastener, they also allow you to attach or remove your legrope quickly and easily.  Cheaper legropes often don't have Velcro or may not have a rail saver at all.
Why do legropes break?
The most common cause of breakage is to nick or cut your legrope on something sharp.  This can be tiny and easily go unnoticed - often from contact with the trailing edge of fins, rocks or other sharps.  If you are going out in large waves or paddling out surf breaks that are a decent distance out to sea - it always pays to check the state of your cord before you paddle out.
Using a thinner diameter comp cord on a thick board can also cause breakage / failure.  Boards with more foam in them put greater strain on your legrope. So if you have a fish or higher volume board, maybe swap out your comp cord for something stronger or longer when there is more energy in the ocean.
Other legrope breakage is usually covered by warranty.  Hold on to your receipt and if the swivel, horn, velcro or other components fail - the company that manufactured it will often offer a 12 month plus warranty.
Snapping of the urethane cord is hard to claim warranty on - as it is most often caused by an unseen nick or cut.
Hopefully this has made your purchase decision a little easier – if there's anything else you would like to know about any of the legropes we stock feel free to get in touch with one of our staff members.