Wave Count Reward Points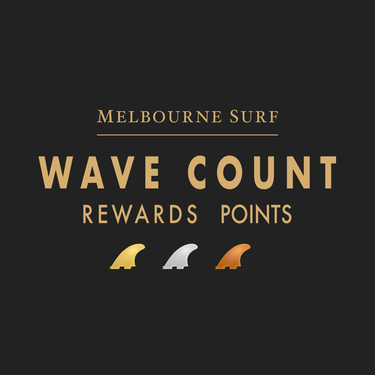 JOIN WAVE COUNT
Earn 500 points on sign up and be the first to know about our special promotions & giveaways.
EARN & REDEEM PONTS
The more you spend, the more rewards you'll receive. Make your way up the hierarchy for extra perks.
LIFETIME OF PERKS
Our loyalty program starts from your first purchase and accrues over our lifetime together.
Melbourne Surfboard Shop is proud to introduce our loyal customers to the Wave Count Reward Points program.
The program rewards purchases with a 'Wave Point' which when totalled, can be redeemed for discounts on products storewide and online.
Wave Points can be earned with purchases in-store and online.
PLEASE NOTE: The structure and perks of the rewards program are subject to occasional change.
Rewards

Bronze

(1-2499 points)

Silver

(2500-4999 points)

Gold

(5000-9999 points)

Platinum

(10000+)

Points / Dollar Spend
1
2
3
5
Sign Up Points
500
-
-
-
Birthday Points
500 points
500 points
500 points
500 points
Instagram Follow
500 points
500 points
500 points
500 points
Redeem for Discount Coupons
Yes
Yes
Yes
Yes
Referal Rewards
$15 discount coupon
$15 discount coupon
$15 discount coupon
$15 discount coupon
Repair Discount
No
No
Yes
Yes + Express
Hire Discount
No
No
1 x daily hire
1 x weekly hire incl. fins
Promo Early Access
Yes
Yes
Yes
Yes
Special Event Access
No
No
Yes
Yes
BONUS PERKS
Updated 10-10-2021
SILVER
$20 Milestone Voucher




GOLD
Wax Block (Buy 3 Get 1 Free)
1 Free RYS Daily Hire Every 3 Months
Express Repairs


PLATINUM
Wax Block (Buy 3 Get 1 Free)
1 Free RYS Daily Hire per Month
Express Repairs
Every Fifth Repair Capped at $100
---
WAYS TO EARN
The amount of 'Wave Points' per spend is gradually increased when you reach certain point tiers (Bronze / Silver / Gold / Platinum)
---
WAYS TO REDEEM
Order Discount
100 Wave Count Reward Points = $1
Referral Coupon
Referring customer must spend over $50 to redeem $15 discount coupon.
Referred customer must spend over $100 to redeem $15 discount coupon.
PLEASE NOTE: Points cannot be earned or redeemed on Gift Cards.
---
HOW TO APPLY FOR REWARDS PROGRAM
Customers can automatically apply for the program by creating an account with Melbourne Surfboard Shop.
Online
Click HERE and Follow the prompts to register as a new customer.
In-store
Our staff can gladly sign you up with your initial purchase.
They will assign your contact details and purchase details to your email address.
Once sent, use your email address to complete your account set up, by following the prompts in the "Forgot Pasword" section HERE.
---
FAQs
How Do I Earn Wave Points?
To earn points on purchases you have to be logged in to your account (won't work on guest accounts).
Wave Points can be earned with each online or in-store spend. Each time you spend, you will receive an email with your updated 'Wave Points' balance. 500 Wave Count Reward points will also be applied when you sign up via our home screen pop up or follow us on the @ZAKSURFBOARDS Instagram handle (The API knows when you have signed up using your accounts and wont allow a secondary 500 points if you re-follow or sign-up again, so sign a mate up.)
How Do I Check My Loyalty Points Balance and Redeem Rewards?
Login to your account, then click the rewards tab below.
You can check your balance and rewards anytime by first accessing your ACCOUNT then clicking the Rewards Tab or Crown (Located in the lower right hand side of your screen). Each time you shop online, you will receive an email with your updated loyalty points balance. From here, you can click through to your loyalty profile, where you can redeem rewards.
Emailed Discount Code Yet to Arrive?
There can be a 30-60 min delay on receiving codes via email. Please ensure you provide the correct email and check your spam inbox, as sometimes our emails can end up in there! If it's been more than 60 mins and you've checked your spam inbox please send us an email at info@melbournesurfboardshop.com.au using the same email you've signed up to our loyalty program with.
How Do I Use My Rewards?
When you have enough points to unlock a reward, you'll be able to redeem it for a unique reward code. You can use your reward code during checkout. Just copy and paste your unique code into the discount bar during checkout and click 'Apply'. Note, you can only use one coupon code per order. Or if you would like to use your reward in-store, just let one of our staff know at the counter.
Terms and Conditions
Melbourne Surfboard Shop reserves the right to modify or cancel coupons / codes at any time.
Coupons / codes can only be redeemed once and cannot be used on sale / discounted items.
If you redeem your coupon online for a purchase less than the full value of the coupon, the balance of the coupon is not redeemable on another purchase.
If you return any of the items purchased with a coupon, the coupon discount or value may be subtracted from the return credit.
If you return an item and are refunded or partially refunded, any points earned from your purchase will be automatically removed.