Futures JJ-2 Medium Techflex Thruster Fin Set
Futures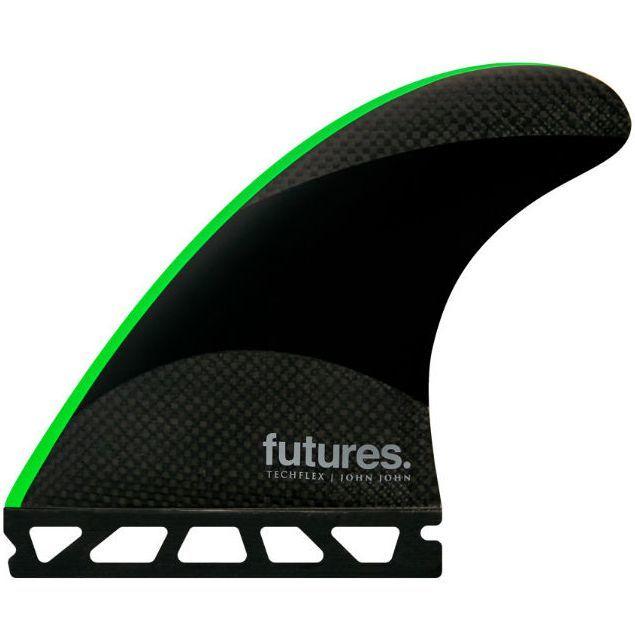 Futures JJ-2 Medium Techflex Thruster Fin Set

The new, updated John John Florence signature fin from Futures - with improved flex control & responsiveness. This updated version utilizes a new epoxy resin that allows the fin to flex in a smoother, more natural fashion - giving you a more consistent feel underfoot. There is also a new finish on these fins which is pretty unique, due to a bunch of new tools the mad scientists at Futures have developed.
Designed specifically to compliment John's full throttle approach - these fins are constructed out of Futures lightweight  materials. A responsive fin, that will perform in a variety of conditions and boards - from mushy beach break knee slappers to macking teepees on the North shore.
This fin template has a medium base that carries through to a medium tip - not too raked & not too upright making them incredibly well balanced, just the right amount of drive, grip and release.  The strategically placed carbon in Futures Techflex construction controls the flex of this fin, preventing them squirreling out from underneath you at high speeds and in the curvier parts of the wave. 
MEDIUM
| | | |
| --- | --- | --- |
| | Side Fins | Back Fin |
| Area 2 | 14.98" | 14.98" |
| Base | 4.45" | 4.45" |
| Height | 4.56" | 4.56" |
| Foil | Flat | Symm |