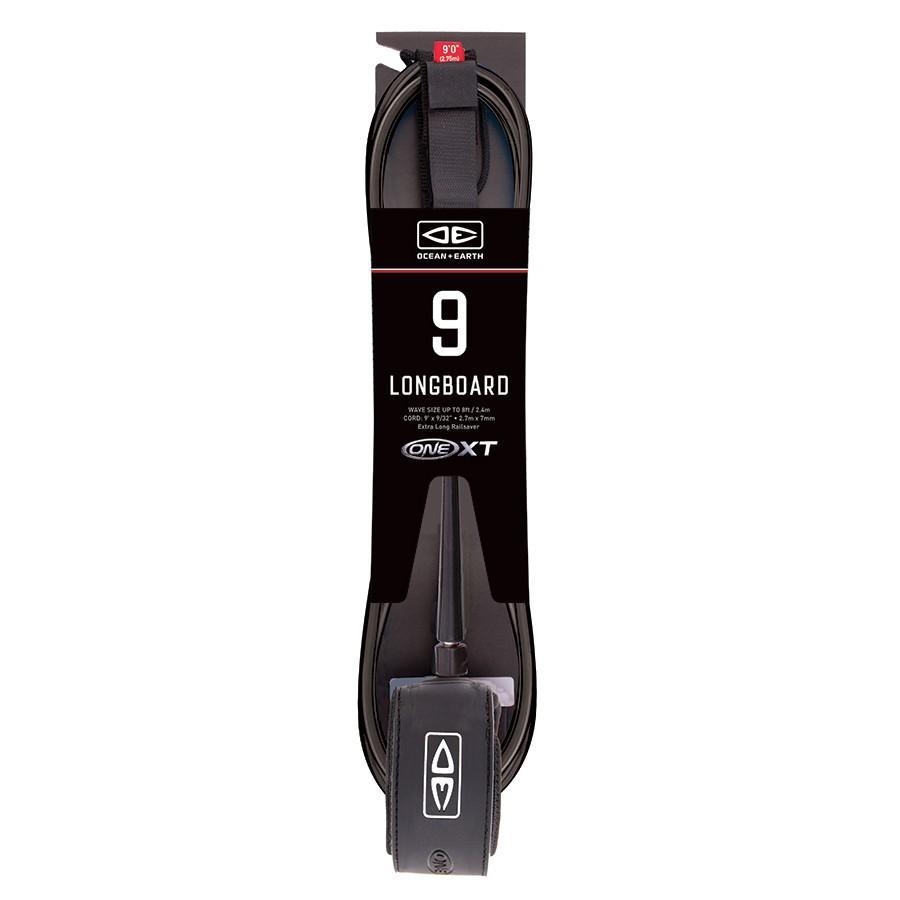 Ocean & Earth One XT Longboard Knee Comp 9'0 Leash
Love hanging ten and showing off your longboard skills? At Ocean & Earth we've built the Longboard Knee LIGHTWEIGHT Leash - 9ft to allow you hang yours toes over the nose. The knee strap helps to keep the cord far away from you so you can easily cruise back to the tail tangle free. Available in a range of colours to suit your style. Grab yours today!
Wave Size: 4ft (1.2m)
Cord Ø: 6mm (1/4")
Strap: 38mm Knee
Railsaver: Extra Long

The One Piece Leash's extruded cord design eliminates the moulded end join which is the weakest point in traditional leashes. Constructed using a new production technique, 8mm swivels and a unique new formula in the urethane cord, this leash has superior strength, stretch and memory retention.

ONE-XT ONE PIECE CORD
No Joins. No Weak Points

TRADITIONAL MOULDED CORD
Weak point where cord meets

CONTROLLED-STRETCH URETHANE
The larger the wave, the more stretch which keeps your board at a safe distance away.
Premium grade quality urethane developed by the world's leading manufacturer. moulded end.

8mm DUAL ANCHOR SWIVELS
Marine grade, stainless anti-corrosive freespin swivels for tangle-free surfing.

ONE PIECE EXTRUDED CORD
From swivel to swivel - just one cord... one component. Eliminates the need for end joins, which are the weakest points in conventional leashes, meaning no weak points.

ANTI- SLIP STRAP
Is an engineered raised non-slip silicon print positioned on the inside of the neoprene

ankle strap and minimises strap movement.

SAFETY RELEASE PULL TAB
New PU 'Easy access' pull tab. Essential when surfing big waves and reefs.

EASY-WRAP NEOPRENE STRAP INNER
Vertically moulded neoprene panels easily wrap around your ankle, adding to comfort.

ORIGINAL DETACHABLE RAILSAVER
The original railsaver system designed by O&E, with sewn in anchor cord. Protects rails and is easily detached

LEASH SIZE LABEL
Easily identify your leash sizes

CURVED STRAP PLUG
Designed for comfort which naturally curves around your ankle.

WATER REPELLENT OUTER STRAP
The strap's outer material is water repellent. Minimizing the weight even when surfed.

WARRANTY
Guaranteed against faulty workmanship or defective materials for 12 months from date of purchase.